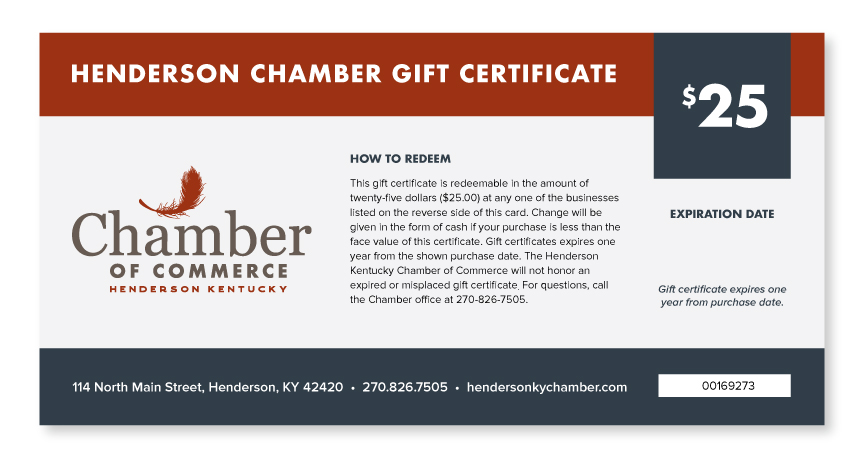 The Henderson Chamber of Commerce's gift certificate program has been promoting local businesses for over 20 years! Chamber of Commerce gift certificates are redeemable for food, goods and services at more than 40 locations. They make great gifts for any occasion including employee incentives, awards, bonuses, contests, anniversaries, birthdays, retirement and more.
How the Program Works:
Gift certificates are sold throughout the year and can be purchased at the Chamber office in $10 and $25 increments
Gift Certificates can only be redeemed at participating Chamber businesses
55 Chamber members are participating in the program in 2024
Over 5000 gift certificates are sold each year – money that goes directly back into our economy
Businesses are reimbursed 100% of the value of the card
A minimum participation fee is required to help with printing of the gift cards
Your business name is listed on the back of the card
As a member of the Henderson Chamber of Commerce, you are invited to participate in the gift certificate program as a vendor. Please complete the form below and send to Donna Warren at donna@hendersonkychamber.com.
For more information or to purchase gift certificates, stop by our Chamber office at 114 North Main street or call 270-826-7505.
2024 participating businesses:
Acropolis Catering & Food Truck
Algonquins
Baker Family Chiropractic
Barnes & Noble at HCC
Beachbum Farms Gift Shop
Best One Tire of Henderson, KY
Beverage Barn
Boucherie Winery
Bridgett's Salon, Spa and Boutique
Butler's Apothecary
Cancun Mexican
Restaurant
Corkscrew Curiosities
Elite Downtown
Envi Boutique Hotel
Farmer and Frenchman
Fazoli's of Henderson, KY
Falcon Creek Boutique
Firedome Pizza & Wings
Golden Corral Steakhouse
Heady's Pizza
Henderson Area Arts Alliance
Henderson Brewing Co.
Henderson Chevrolet Buick GMC
Henderson Tourist Commission Gift Shop
Homer's Barbeque
Hometown Roots Restaurant
Hometown Vision Care / Dr. Sara Sagez-Barnett
Ideal Market/Rocket Oil Co.
Jessica Renaker, DMD, PLLC
J'Petals
Just Plus/Just Chic
K.T.'s Barbershop LLC
LandyLane Boutique
Meuth Carpet Supply
Nu-Look Cleaners
Olive & Mae Boutique
Radiant Sun Boutique
Roast Coffee Bar
Rockhouse on the River
Rookies Restaurant & Sports Bar
Rural King of Henderson, KY
Sidewalk Café
Skin & Tonic
Skin Space Esthetics
Subway – Henderson only
Sureway – Henderson only
Tavola Dei Nonna
T&T Drugstore
Tacoholics
The Elm Shops
The Olive Leaf
The Original Mr. B.'s
Thomason's BBQ
Tip Top Design
Tumbleweed Southwest Grill
Whims & Wishes
Wilkerson Shoes
Woodard Cooling & Heating